The HRK's Modus Project - Enhancing student mobility across educational boundaries through recognition
The German Rectors' Conference (HRK) is the association of public and government-recognised universities in Germany. Due to this large membership, representing all types of higher education institution, the HRK functions as the voice of the universities.
The HRK's MODUS project aims at enhancing student mobility and permeability across educational boundaries through further improving recognition* at German higher education institutions (HEI). This contributes to more transparency and to flexible learning pathways.
The project agenda consists of three key priorities:
Harmonization and dissemination of commonly used and quality-assured national standards for recognition at HEI.
Encouraging the increased use of digital processes and infrastructures for better, more effective and easier recognition procedures, including the use of innovative applications.
Informing and advising HEI on all questions of recognition (Service Centre)
To achieve these goals, the following expert panels will be set up in the project: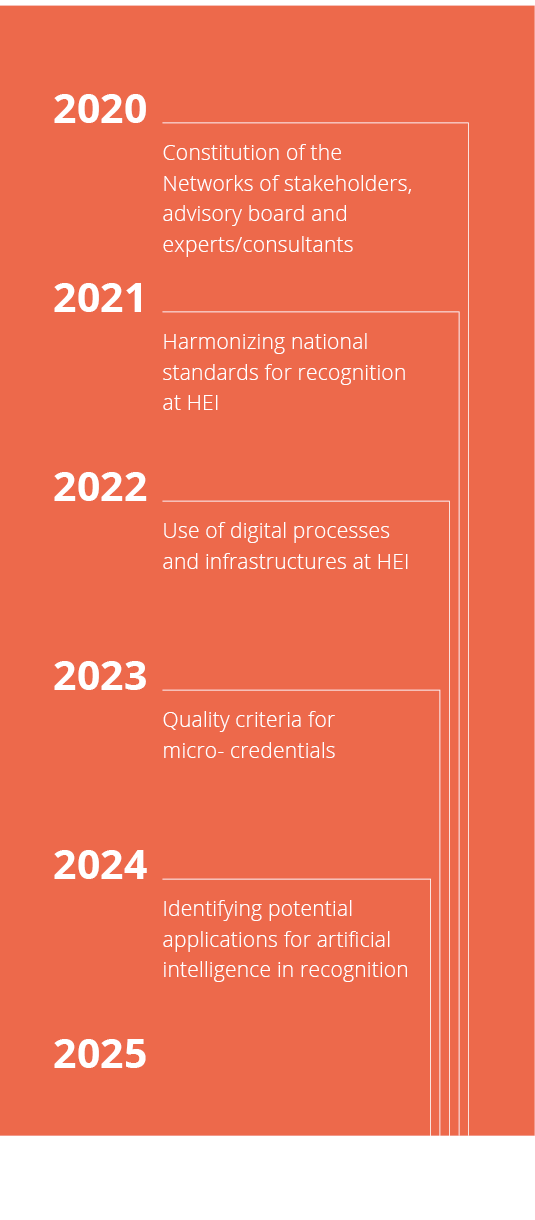 The project's objective is to become the focal point of contact for transparent, credible and academically reliable information concerning all questions of recognition. While providing targeted support and cooperation to HEI it also wants to enrich the debate of digitalisation of recognition processes within universities. Developing recommendations and documenting good practice are central to these efforts.
In order to involve professors and staff from HEI, a network of academic consultants and experts, an advisory board deriving from different academic fields and countries and the expert panel on quality assured recognition standards (so-called "future workshops") on the first key priority have been successfully established. Furthermore, interested HEI are invited to be pilots for different interventions supporting effective recognition.
Moreover, MODUS complements its portfolio with tailored offers aimed at specific target groups within HEI to better inform, advise and network via common workshops, web-seminars and conferences. Finally, all effects of the project will be carefully measured with project-accompanying regular evaluations and surveys.
________________________
* This includes both the recognition of academic achievements and qualifications acquired at higher education institutions at home and abroad as well as of competences gained outside academia, regardless of learning contexts (formal, non-formal or informal).
---